Farm animal work
Do you need help transporting poultry? Are you dispatching poultry proficiently? Do you need help in the installation of new equipment or repairing of old?
We offer a comprehensive range of various solutions for the needs of producers.
• Transporting and dispatching of poultry
• Installation and maintenance of equipment
• Washing of poultry houses and other production buildings
Transporting and dispatching of poultry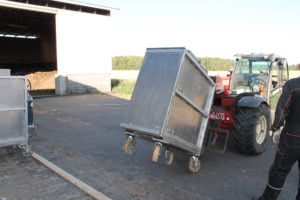 Agrikumppanit offers you transport equipment, together with workers.
Our competent team takes care of the tasks related to the transfer and dispatching of poultry in a straightforward manner. Loading and unloading is done fast and professionally by our experienced workers. In dispatching we follow the related standards and regulations. In contract priced dispatching we also act as the responsible party. This eases the producer's responsibility in a possible control situation.
Installation and repairing
We offer an installation team at your disposal, whose efficient way of working makes the installation and maintenance effortless.
Experience of installing several different makes of equipment. In addition to multi-floor poultry houses, we are also familiar with assembling enriched cages. We have experience of at least the following manufacturers: Vencomatic, Landmeco, Farmer Automatic, Zucami and Jansen.
In addition to the equipment, our team can also install the air conditioning, egg collection, packaging machine, manure removal, fodder transport, partitions, lighting, etc. We also efficiently disassemble old cages and carry out simple construction work. We have special tools, e.g. for repairing manure mats and egg belts.
The installation team, Marian Popa and Agrikumppanit has a productive history! The 10 diligent workers led by our permanent installation supervisor Marian perform even challenging poultry house installations and services – efficiently and carefully!
In addition to passenger cars, our team also has two vans and two trucks. The vehicles carry a sizeable amount of tools, the use of which is included in the hourly rate.